Stratacache Tower - OFFICE SPACE FOR LEASE
40 N. Main Street, Dayton 45423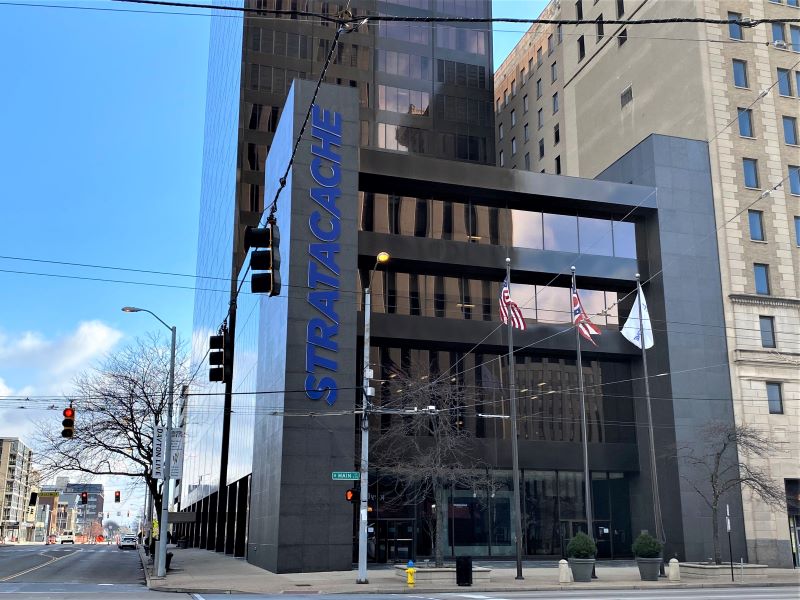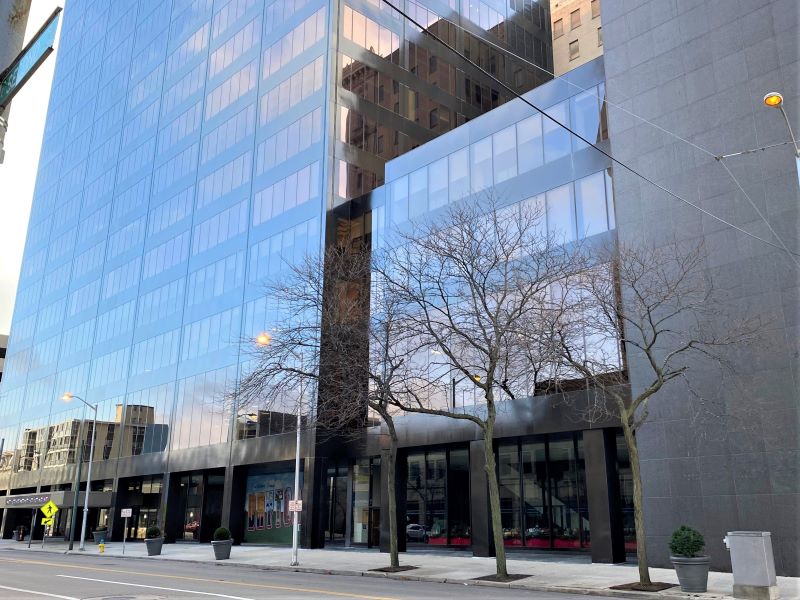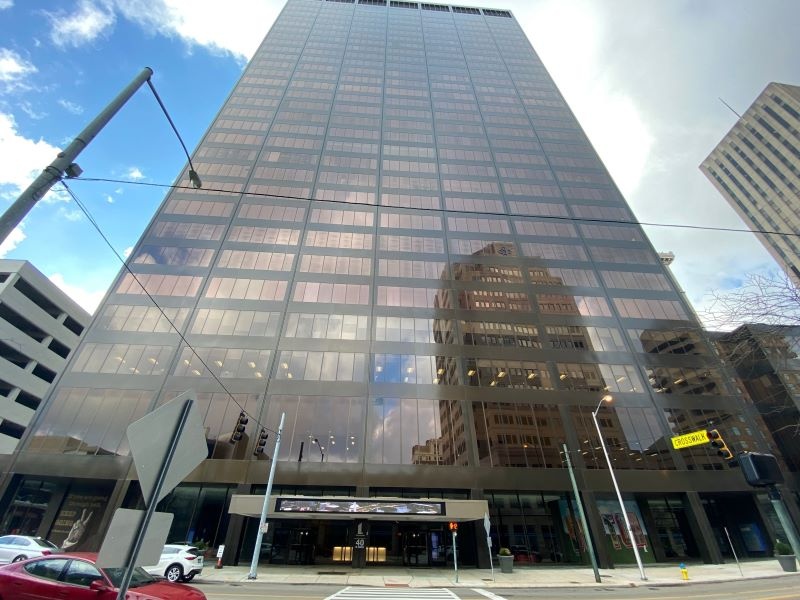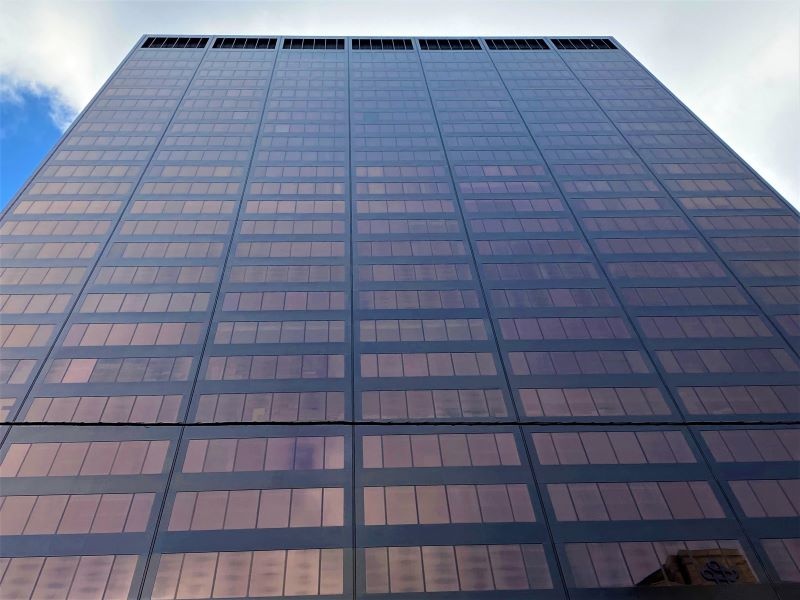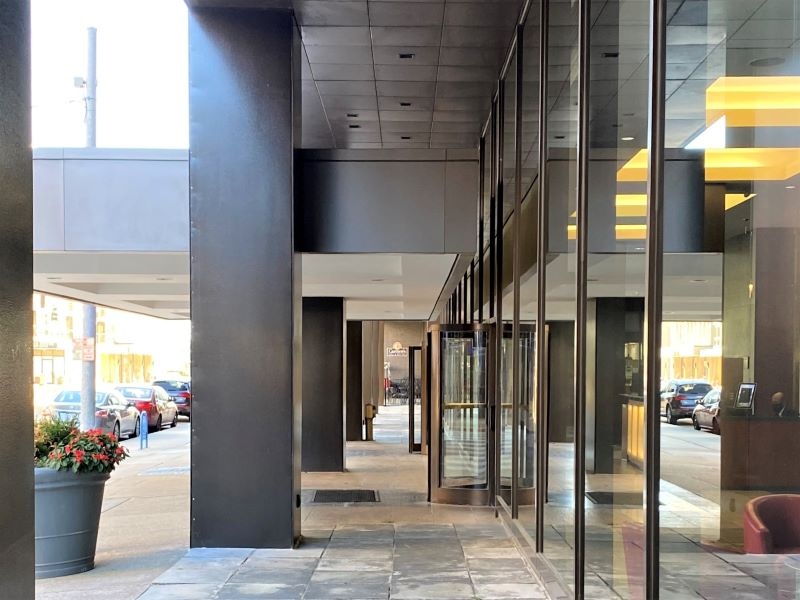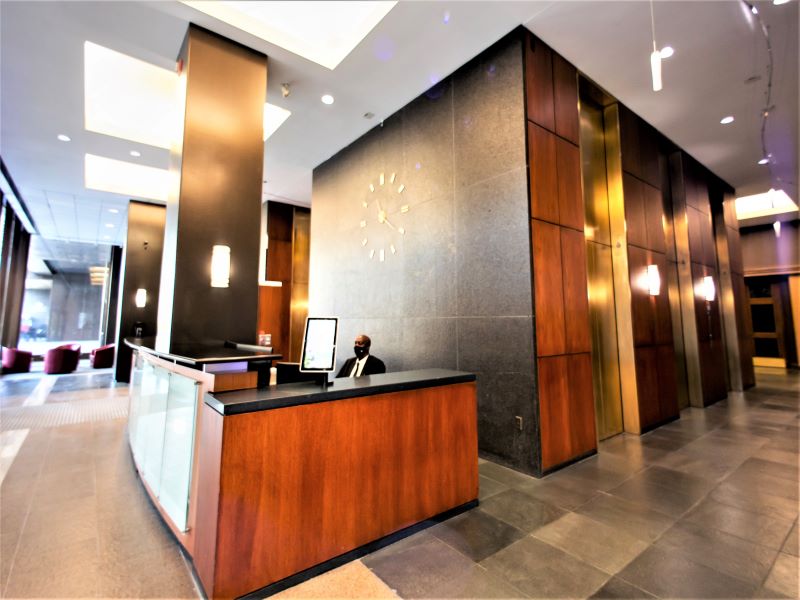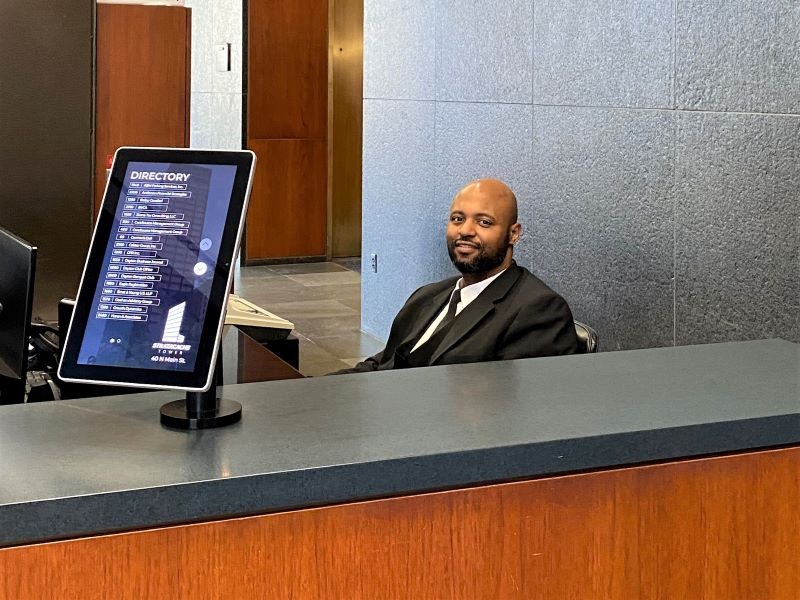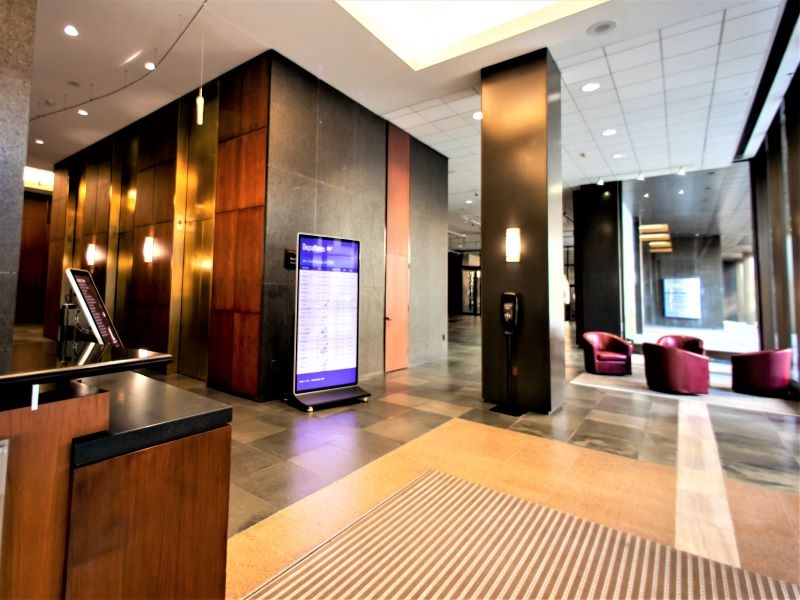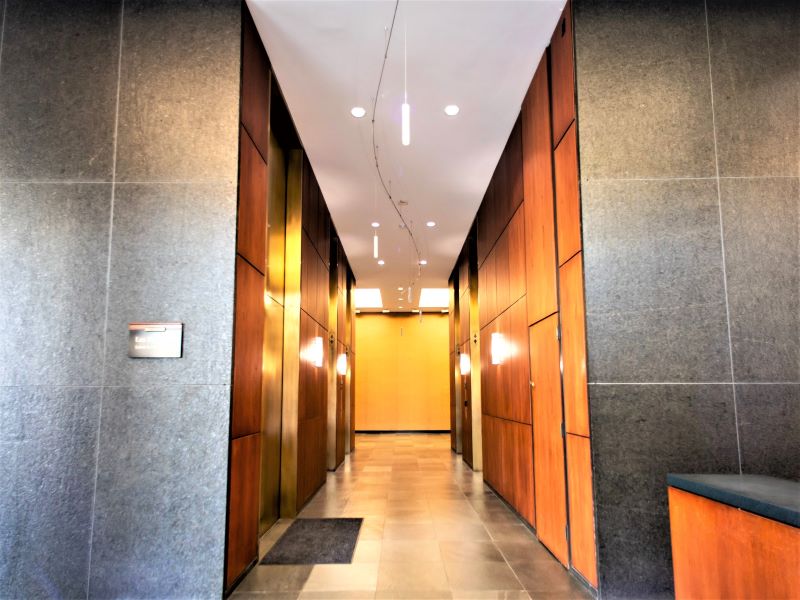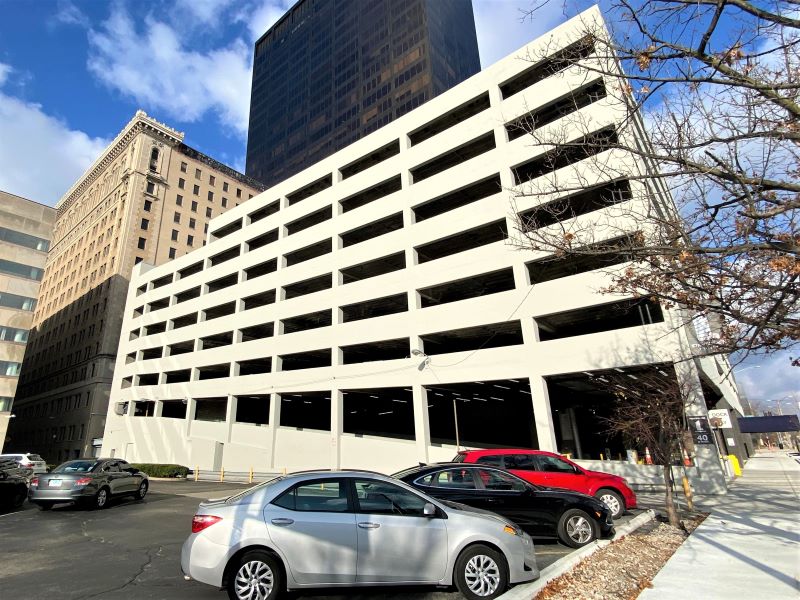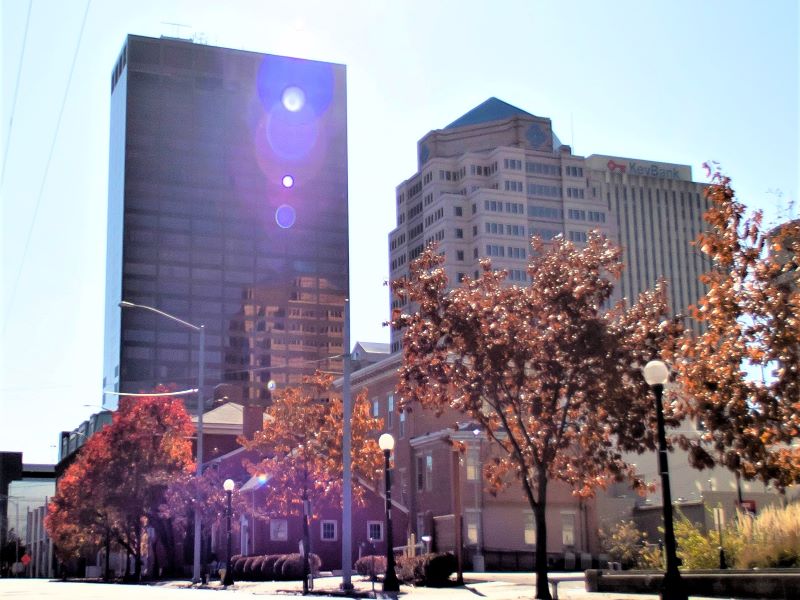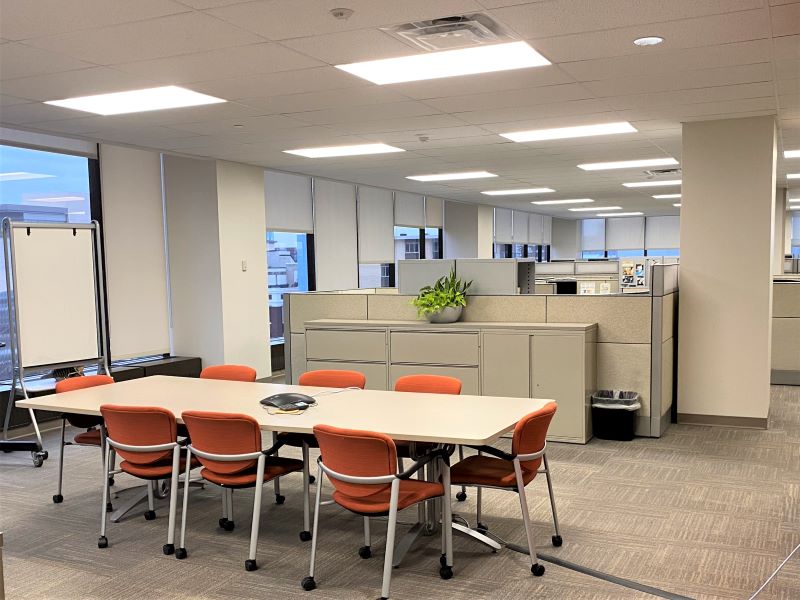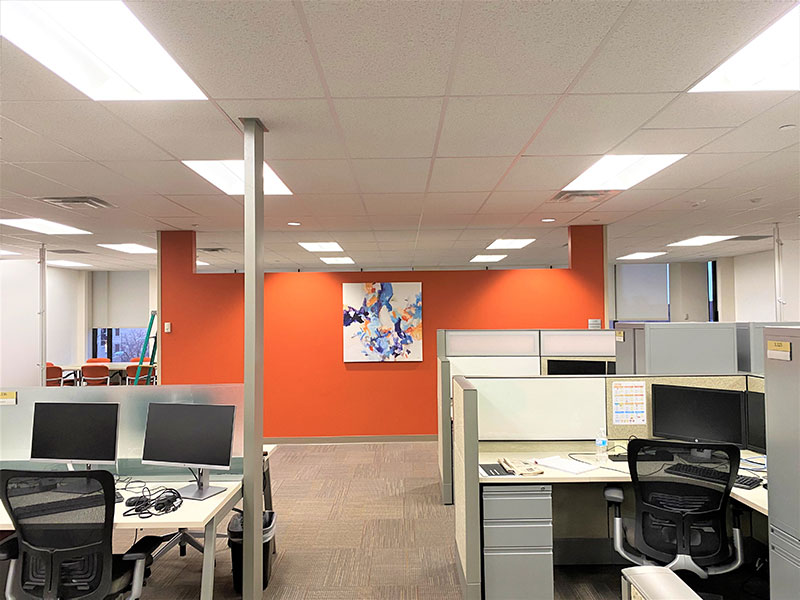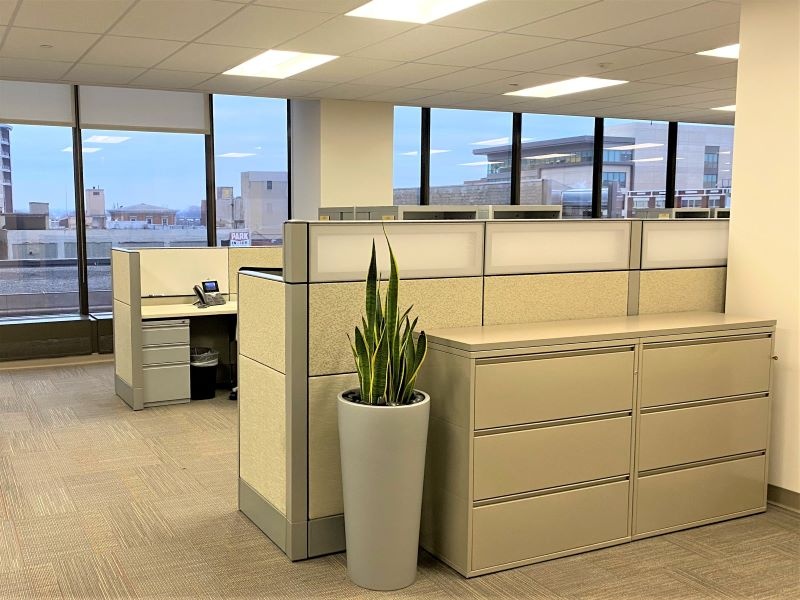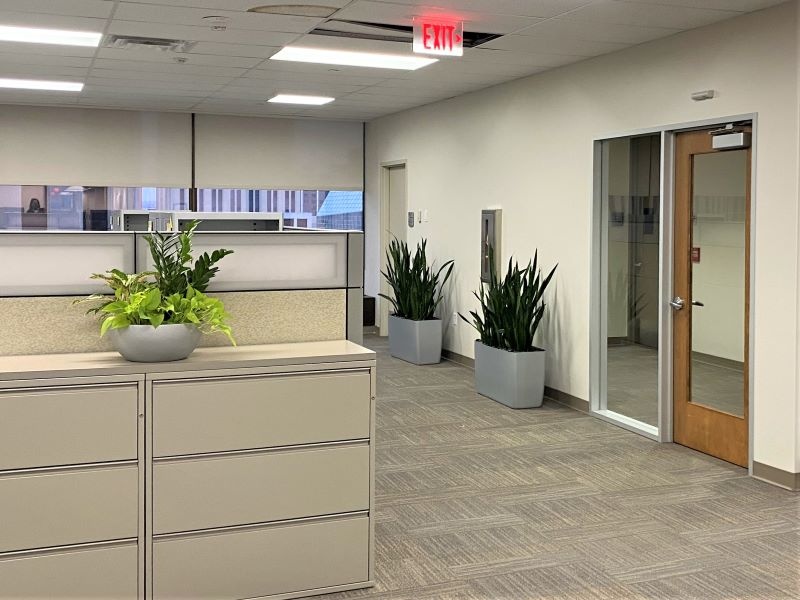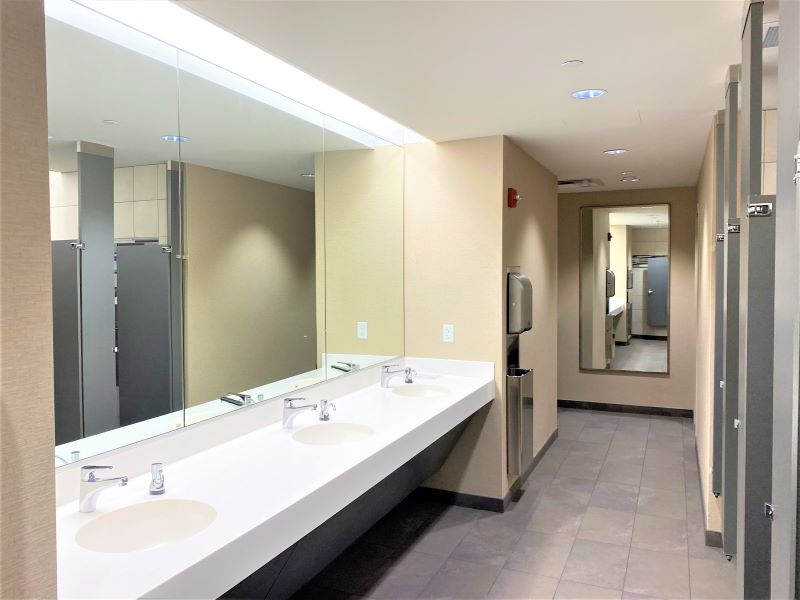 15
Stratacache Tower
A DAYTON LANDMARK
Stratacache Tower is 30-story, steel and glass building that brings an air of classic Manhattan style to the Dayton skyline. Located in the epicenter of the downtown Central Business District and extending a full city block, Stratacache Tower is the largest and tallest building in Dayton. Offering amazing city views, abundant light, and many amenities, Stratacache Tower is the premier location for businesses that want to be close to it all!
Building Features: 
An expansive lobby with high ceilings, rich teak wood, natural stone finishes and original artwork.
A staffed concierge desk offers guests secure, 24-hour access to the building.
Flexible layouts for multi-tenant or full floor occupancy.
Floor plates ranging from 16,000 to 24,000 SF.
Attached covered parking garage offers 540 spots accessible by lobby elevators.
Additional surface parking lot adjacent to the property.
Close proximity to the Schuster Performing Arts Center, Courthouse Square, and the Arcade.
Walking distance to many downtown amenities including new upscale apartments, restaurants, bars, and entertainment.
Building Amenities:
Details
Unit Size : 500,000 +/- SF
Price Per Sq Ft : $16.95 ~ $19.95
Address : 40 N. Main Street
Property Facts
Property Type : OFFICE SPACE
Building Size : 515,614 SF
Available Space
List of units
| | | | |
| --- | --- | --- | --- |
| Ste. | Type | SqFt | Price |
| Lobby | Restaurant/Retail | 10,000 | $16.95 – 19.95 |
| Lobby | Office/Retail | 5,409 | $16.95 – 19.95 |
| Lobby | Office/Retail | 455 | $16.95 – 19.95 |
| Lobby | Office/Retail | 315 | $16.95 – 19.95 |
| Lobby | Office/Retail | 1534 | $16.95 – 19.95 |
| Lobby | Office/Retail | 2550 | $16.95 – 19.95 |
| Lobby | Office/Retail | 2093 | $16.95 – 19.95 |
| 2nd Floor | Office | 9,936 | $16.95 – 19.95 |
| 2nd Floor | Office | 13,652 | $16.95 – 19.95 |
| 3rd Floor | Office | 23,800 | $16.95 – 19.95 |
| 4th Floor | Office | 24,700 | $16.95 – 19.95 |
| 5th Floor | Office | 9,624 | $16.95 – 19.95 |
| 5th Floor | Office | 207 | $16.95 – 19.95 |
| 5th Floor | Office | 195 | $16.95 – 19.95 |
| 5th Floor | Office | 4,364 | $16.95 – 19.95 |
| 6th Floor | Office | 16,197 | $16.95 – 19.95 |
| 7th Floor | Office | 2,432 | $16.95 – 19.95 |
| 7th Floor | Office | 4,008 | $16.95 – 19.95 |
| 7th Floor | Office | 8,692 | $16.95 – 19.95 |
| 8th Floor | Office | 2,504 | $16.95 – 19.95 |
| 8th Floor | Office | 4,979 | $16.95 – 19.95 |
| 8th Floor | Office | 407 | $16.95 – 19.95 |
| 8th Floor | Office | 1,681 | $16.95 – 19.95 |
| 8th Floor | Office | 4,653 | $16.95 – 19.95 |
| 9th Floor | Office | 1,710 | $16.95 – 19.95 |
| 9th Floor | Office | 13,262 | $16.95 – 19.95 |
| 10th Floor | Office | 570 | $16.95 – 19.95 |
| 12th Floor | Office | 384 | $16.95 – 19.95 |
| 12th Floor | Office | 2,160 | $16.95 – 19.95 |
| 12th Floor | Office | 844 | $16.95 – 19.95 |
| 12th Floor | Office | 2,676 | $16.95 – 19.95 |
| 12th Floor | Office | 3,038 | $16.95 – 19.95 |
| 13th Floor | Office | 2,442 | $16.95 – 19.95 |
| 13th Floor | Office | 1,042 | $16.95 – 19.95 |
| 13th Floor | Office | 487 | $16.95 – 19.95 |
| 13th Floor | Office | 4,991 | $16.95 – 19.95 |
| 14th Floor | Office | 10,762 | $16.95 – 19.95 |
| 14th Floor | Office | 2,766 | $16.95 – 19.95 |
| 15th Floor | Office | 4,465 | $16.95 – 19.95 |
| 15th Floor | Office | 344 | $16.95 – 19.95 |
| 15th Floor | Office | 1,331 | $16.95 – 19.95 |
| 15th Floor | Office | 4,465 | $16.95 – 19.95 |
| 16th Floor | Office | 6,002 | $16.95 – 19.95 |
| 16th Floor | Office | 4,826 | $16.95 – 19.95 |
| 16th Floor | Office | 1,466 | $16.95 – 19.95 |
| 18th Floor | Office | 2,162 | $16.95 – 19.95 |
| 20th Floor | Office | 3,764 | $16.95 – 19.95 |
| 21st Floor | Office | 5,867 | $16.95 – 19.95 |
| 22nd Floor | Office | 16,100 | $16.95 – 19.95 |
| 23rd Floor | Office | 16,100 | $16.95 – 19.95 |
| 24th Floor | Office | 686 | $16.95 – 19.95 |
| 25th Floor | Office | 4,452 | $16.95 – 19.95 |
| 28th Floor | Office | 4,174 | $16.95 – 19.95 |
| 29th Floor | Restaurant/Fitness | 19,287 | $16.95 – 19.95 |
| 25th Floor | Office | 1,332 | $16.95 – 19.95 |
Features
Located in the Central Business District
Locally owned and managed
Updated and flexible space
Located in downtown Dayton